by Navjot Gill, WNC director
As the youngest member on the WNC Board of Directors, I had the unique opportunity to explore the historical roots of our community partnership in Ramechhap, Nepal during a short visit to the country in early January 2017.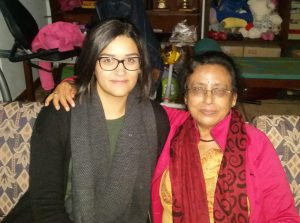 This year, we are celebrating 28 years of partnership with Tamakoshi Sewa Samiti (TSS is our partner organization in Nepal). TSS was established in 1984 by the late Mr. Jagadish Ghimire and Mrs. Durga Ghimire. Throughout the years, I have had the pleasure of reflecting back on the early days of the organization through stories that were shared by individuals who have been part of the movement since the 1980s, such as Suresh Shrestha (current program coordinator) and Dr. Suman Karmacharya (current physician at TSS hospital). I remember sitting in the TSS courtyard and following the descriptive narrative of what the buildings and facilities looked like 10, 15, and 20 years ago. Often, I have had the honour of hearing about the Ghimire family, the family's vision and commitment that inspired the creation of TSS and how their roots in social justice created a community-based foundation for everyone to build from.
This visit, I had the honour of meeting with Mrs. Durga Ghimire and her son, Himal Ghimire. It was truly a unique experience to learn about their journey with social justice, literature, and advocacy in regards to Ramechhap and also at the national level. Mrs. Ghimire is a renowned activist for women's rights, safe migration and human trafficking. She founded Agroforestry, Basic health and Cooperative Nepal (ABC Nepal), which is an organization that is grounded in advocating for the rights of women and dismantling human trafficking practices. Further, the late Mr. Jagadish Ghimire is remembered by the nation for his great contributions to Nepal's literature, his lifelong commitment to activism and grassroots planning, and his political contributions. On this occasion, we sat, reflecting back on TSS, sharing a meal together, and fostering a relationship that started 28 years ago by folks at World Neighbours Canada, some who we are still honoured to have on our Board, and others whom we miss dearly.