By Gurleen Grewal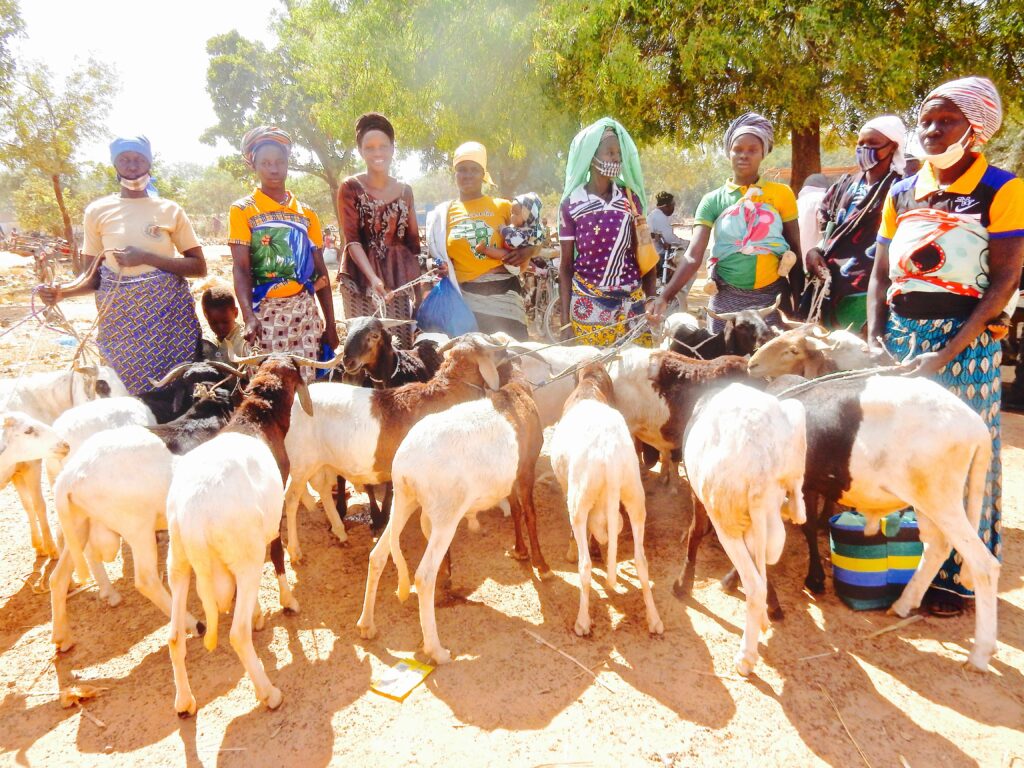 "I will stop neglecting myself. I will work well to succeed in my sheep-fattening and have a lot of profit." These goals were expressed by a woman from a village in rural Burkina Faso after she had participated in an innovative project set in motion by World Neighbours Canada and our local partner organization, APDC, with funding from the Fund for Innovation and Transformation (FIT). It is one of the many inspiring testimonies we have read as our FIT-funded project recently reached its halfway point! All FIT-funded projects test innovative solutions for advancing gender equality, and empowering women and girls. These projects also have the benefit of FIT's ongoing support as they adapt to on-the-ground challenges.
The goal of our FIT-funded innovative project is to test a novel approach to strengthening rural women's economic participation by helping them develop the ability to manage and maintain informal sheep-fattening businesses. Sheep-fattening is a relatively low risk way to earn income. It involves purchasing sheep, caring for them and feeding them to ensure they remain healthy and gain weight, and then later selling them for a higher price.
There are a series of barriers that prevent poor women in rural Burkina Faso from being able to manage and maintain a sheep-fattening business. For one, women often lack access to funds for purchasing sheep, and to the professional skills that are needed to organize their sheep-fattening activities as businesses that can generate profit in a sustainable way. They also struggle to balance competing household responsibilities with their sheep-fattening activities, and wonder how to go about enlisting their family's support in that process. WNC's FIT-funded project addresses all of these barriers. It provides rural women with the funds for the initial purchase of sheep, professional training sessions in topics like financial literacy and entrepreneurship, and the support women need to be able to go to the animal market.
Though our project has only reached its halfway point, we have already seen encouraging progress that points towards the success of the novel approach we are testing! Among the highlights of the project so far is the number of women who can identify the features of a healthy sheep to purchase, and who have the support of their household members in caring for their animals. This project has allowed many women to experience a number of firsts: for the first time in their lives thirty women were able to participate in the purchase of sheep at the local cattle market. Having never before observed this process they enjoyed learning how one negotiates the terms of a purchase, or identifies a desirable sheep.
Before our project began, few people in rural villages thought it was possible for women to improve their social status or to contribute to village development through their economic empowerment. But, at the midpoint of our project's implementation, the majority of people now see both of these benefits –women's improved social status, and women's contribution to village development –as being tied to women's economic empowerment! As we move towards the final stretch of our innovative project, we will continue to share the stories of rural women as they meet the challenges of learning and applying new professional skills and becoming active and insightful managers of small animal-fattening businesses.
To learn more about the Fund for Innovation and Transformation, please have a look at their website.