posted by Judy Gray, with information from Laurena Rehbein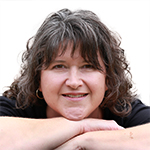 Laurena Rehbein, one of World Neighbours Canada's directors, has recently announced some big news regarding her work.
"With great excitement, I am pleased to announce that I am embarking on a new adventure," Laurena recently said in a news release. "As of April 11, I have stepped into a new role as a remote employee of a company named Automattic."
For the last number of years, Laurena has been self-employed running her graphic design and web development business, Write this Down Freelancing. Her new position will be a very natural extension of that work, as it revolves around the open-source web-building software called WordPress, which is used to power approximately 25% of the world's websites (including the World Neighbours Canada's website, and most of the others built by Laurena over past years).
"My job title will be 'Happiness Engineer' and I will be part of an amazing team that provides user support to eCommerce clients with the WooCommerce plugin," she said. "I've also had to dust off my passport, as there is a fair bit of travelling involved."
Her new position is a remote position, meaning she will still be working from Oliver, and will still be occupying her office on Oliver's Main Street.
Since last fall, Laurena has also been part of the South Okanagan WordPress Meetup group, which will still continue and is and looking for new members. This group is an informal get-together for anyone who uses WordPress – for personal use, as a business-person, or as a developer. The meetings are free, and happen once per month at the Oliver Bakery. (http://www.meetup.com/South-Okanagan-WordPress-Meetup/)
As always, her commitment to World Neighbours Canada (WNC) remains strong. As is the case for all of the board members, her position is completely volunteer – WNC has no paid staff and minimal overhead, meaning all of your donations can be used directly for the ongoing projects. Laurena's primary role with WNC is to design and layout the twice-annual newsletters, as well as website maintenance.