"We work with Tamakoshi Sewa Samiti because it is a pioneer social organization in the region that is committed to social work, working closely with rural populations. We have a good team spirit and are working from the ground up."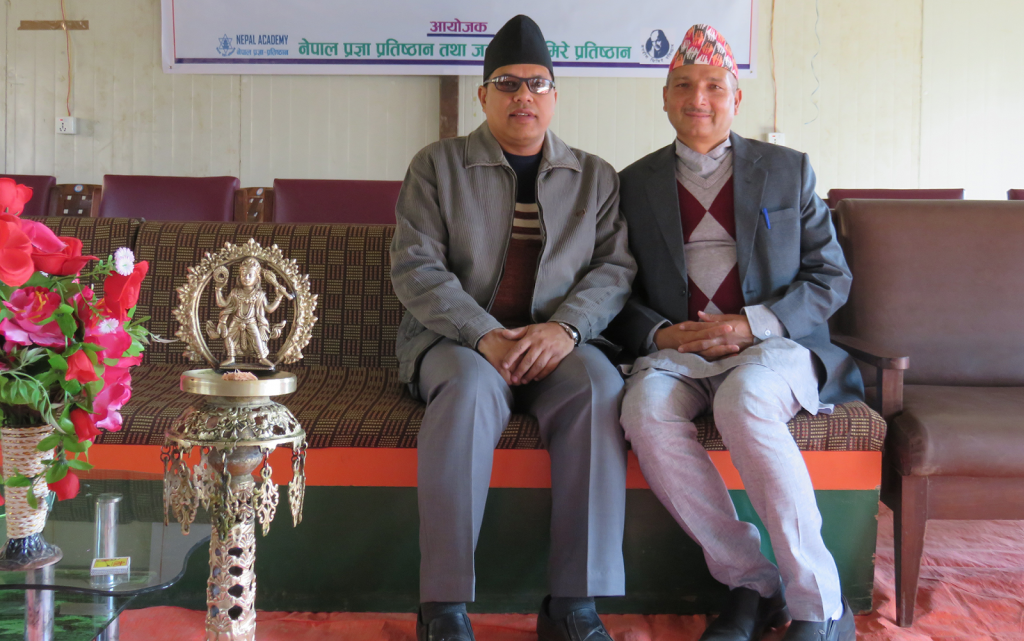 By Nav Gill
Tamakoshi Sewa Samiti, our partner organization in Nepal, is run by dedicated and committed staff members who continue to pave the way forward for rural community development. This  team includes senior staff members Suresh Shrestha (TSS Project Officer) and Govinda Ghimire (TSS Director), who have been with the organization for over 25 years. They've both seen the organization grow from a small one room site to what is now an integrated health system of a cooperative credit union, 25-bed co-operative hospital, ambulance, dentistry unit, and rural community development initiatives. In their time, they have worked with various communities to implement over 250 water systems and close to 20,000 latrines!
A typical day for Suresh and Govinda starts at 5:30am. They both start off the day with a 30 minute walk and catch up the news over a cup of tea. The team enjoys breakfast together with other TSS staff members before heading to the office around 9:30 am. On days when the team is working in the field with community members, their days extend to twelve hours. Otherwise, Suresh can often be spotted in the office working on program development, evaluation, monitoring, public engagement and outreach, and reporting elements of the project.
In March 2019, Suresh Shrestha and Govinda will visit various communities in British Columbia to share updates on the current maternal and child health initiatives, funded by the Government of Canada in partnership with World Neighbours Canada. Join us at a public event near you to hear first hand the impact of water and sanitation on community health:
Cawston BC March 24, 2019, 1:00pm-2:30pm @ Cawston Community Hall
Oliver BC March 25, 2019 7:00pm-8:30pm @ Christ the King Church
Vernon BC March 27, 2019 7:00pm-8:30 pm @ Heritage Hall Okanagan Science Centre
Vancouver BC March 30, 2019 12:30-pm-2:30pm @ HiVE Vancouver
Coquitlam BC March 30, 2019 4:00pm-4:45pm @ Coquitlam City Centre Library
Visit us on Facebook for more information on the upcoming events and our work!